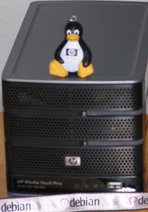 The HP Media Vault mv2120 and the HP Media Vault Pro mv5020 are NAS devices that can be used for a variety of tasks. In the following, I will describe what is needed to get Debian running on your HP mv2120.
Please be aware that Debian 10 was the last release to support these devices.
Important note
Please be aware that a change in the u-boot configuration is required before you can upgrade from Debian 8 (jessie) to Debian 9 (stretch). Make sure you make this change before you upgrade!
Information
External Resources
Help
If you have problems with Debian on HP mv2120 and cannot solve them with Google, there are the following resources you can consult:
The debian-arm list for questions specifically related to the ARM port of Debian or about running Debian on the HP mv2120.
Acknowledgements
A lot of people helped to make Debian on HP mv2120 possible. The folks at HP have been very supportive of this effort and have supplied some hardware. Marvell has done a fabulous job integrating Orion support into the mainline kernel. Eugene San has figured out a lot of details about the boot process of the HP mv2120. Marc Singer has also done a lot of investigation and has written uphpmvault.
Disclaimer
Even though I used to work for HP, all of this work was done in my spare time. Debian on the HP mv2120 is not supported by HP in any way.