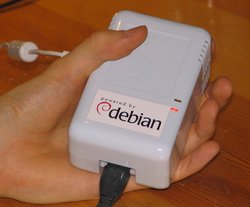 I received a SheevaPlug this week, an intriguing device that packs incredible power and functionality into a tiny package. As many of you know, I've been doing a lot of work on Debian for the Linksys NSLU2 in the last few years. The NSLU2 is a key reason why ARM has become the third most popular architecture in Debian (after 32 and 64 bit x86), and I believe a main reason is that the NSLU2 is so incredibly cheap. At a price under $100, most people don't think too long and simply buy a device and do something cool with it.
The SheevaPlug is being offered at the same price range but offers considerably more. Riku Voipio asked the right question: "What would you do with something approximately 10x more powerful with same prize/size range?" I believe the SheevaPlug is a killer replacement for the NSLU2 and here's why:
Marvell Kirkwood 6281 CPU at 1.2 GHz with 256 KB L2 cache (compared to a 266 MHz CPU)
512 MB RAM (compared to lousy 32 MB)
512 MB flash, enough for a basic Debian installation (compared to 8 MB)
Gigabit Ethernet (compared to 100 Mb) and no proprietary microcode required
1x USB and 1x SD (compared to 2x USB: the only advantage the NSLU2 has)
... and finally: mini-USB with serial console and JTAG: while Debian on the NSLU2 works well and is stable, we regularly had users whose system would no longer boot and there was no good way to figure out why. The serial console on the SheevaPlug actually allows users to figure out what's going on.
I'm incredibly excited about the SheevaPlug and the first thing I did was to take the device apart and look at the inside. The results can be found in the SheevaPlug image gallery. My next project will be slightly more productive: porting Debian.
As I see it, we should support the following three installation variants for the SheevaPlug:
To an external USB drive or stick.
To an SD card.
To the 512 MB flash memory on the device.
The first two should be relatively straight forward, but of course installing to the internal flash memory is particularly interesting given that 512 MB (plus compression) is enough for a basic installation of Debian. Unfortunately, installations to MTD flash are currently not supported in the Debian installer but I hope we can find a volunteer who wants to implement this functionality.
My next steps are to put a kernel for the SheevaPlug into the archive and to get a basic installation going. From there we can look at more sophisticated installation options and other functionality.